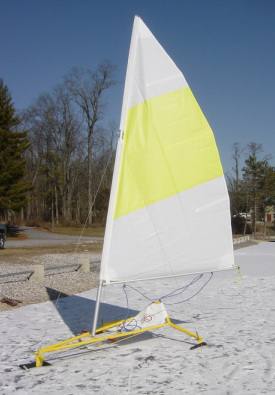 Skimmer 45

The Skimmer 45 is a registered trademark of Wind Products. It is 100% made in the USA. The Skimmer is delivered to your door in one large box. Simple assembly is required (instructions included). We support our product! For the most winter fun on the ice, order your Skimmer today for $1500 plus shipping.

For more information about the Skimmer 45 Iceboat, or for parts contact us at 717 432-1074 or email WindProducts@email.com.

Free Skimmer Runner Maintenance Documents (click to open):
How to Align Your Runners
How To Sharpen Your Runners

Gifford Pinchot State Park Ice Report

No ice yet.
Please exercise caution and good judgement on the ice.

Make sure the ice is at least 4" thick. Chop a hole in the ice with a small hatchet and measure the thickness.
Wear a personal flotation device (life jacket), safety picks and ice cleats (old metal golf shoes work well) when you are on the ice. Carry a throw line on your boat to lend assistance, if needed.
Survey the entire area before you boat for thin/open areas and other hazards.
Don't iceboat alone but don't congregate, either. Huddle over the fire on shore; groups may add too much weight in a small area on the ice.
---